New books are hitting our library shelves every week! Here's just a few of the new teen materials that you can find at the Alameda Free Library in July. Place a hold on these items using the library catalog to make sure you're one of the first to read these books!
For fans of Speak by Laurie Halse Anderson…
Sparrow by Mary Cecelia Jackson | YA Fiction, call number: YA FIC JACKSON
"There are two kinds of people on the planet. Hunters and prey
I thought I would be safe after my mother died. I thought I could stop searching for new places to hide. But you can't escape what you are, what you've always been.
My name is Savannah Darcy Rose.
And I am still prey.
Though Savannah Rose―Sparrow to her friends and family―is a gifted ballerina, her real talent is keeping secrets. Schooled in silence by her long-dead mother, Sparrow has always believed that her lifelong creed―"I'm not the kind of girl who tells"―will make her just like everyone else: Normal. Happy. Safe. But in the aftermath of a brutal assault by her seemingly perfect boyfriend Tristan, Sparrow must finally find the courage to confront the ghosts of her past, or lose herself forever…."- Goodreads synopsis
Black Girl Unlimited by Echo Brown | YA Fiction, YA FIC BROWN
"Echo Brown is a wizard from the East Side, where apartments are small and parents suffer addictions to the white rocks. Yet there is magic . . . everywhere. New portals begin to open when Echo transfers to the rich school on the West Side, and an insightful teacher becomes a pivotal mentor. Each day, Echo travels between two worlds, leaving her brothers, her friends, and a piece of herself behind on the East Side. There are dangers to leaving behind the place that made you. Echo soon realizes there is pain flowing through everyone around her, and a black veil of depression threatens to undo everything she's worked for.
Heavily autobiographical and infused with magical realism, Black Girl Unlimited fearlessly explores the intersections of poverty, sexual violence, depression, racism, and sexism—all through the arc of a transcendent coming-of-age." -Goodreads synopsis
For fans of One of Us Is Lying…
All Your Twisted Secrets by Diana Urban | YA Fiction, call number: YA FIC URBAN
"What do the queen bee, star athlete, valedictorian, stoner, loner, and music geek all have in common? They were all invited to a scholarship dinner, only to discover it's a trap. Someone has locked them into a room with a bomb, a syringe filled with poison, and a note saying they have an hour to pick someone to kill … or else everyone dies.
Amber Prescott is determined to get her classmates and herself out of the room alive, but that might be easier said than done. No one knows how they're all connected or who would want them dead. As they retrace the events over the past year that might have triggered their captor's ultimatum, it becomes clear that everyone is hiding something. And with the clock ticking down, confusion turns into fear, and fear morphs into panic as they race to answer the biggest question: Who will they choose to die?" -Goodreads synopsis
If you like suspenseful reads…
Frozen Beauty by Lexa Hillyer| YA Fiction, call number: YA FIC HILLYER
 "Everyone in Devil's Lake knows the three golden Malloy sisters—but one of them is keeping a secret that will turn their little world inside out….
No one knows exactly what happened to Kit in the woods that night—all they have are a constellation of facts: icy blue lips and fingers cold to the touch, a lacy bra, an abandoned pick-up truck with keys still in the ignition. Still, Tessa, even in her fog of grief, is certain that her sister's killer wasn't Boyd, the boy next door whom they've all loved in their own way. There are too many details that don't add up, too many secrets still tucked away.
But no matter how fiercely she searches for answers, at the core of that complicated night is a truth that's heartbreakingly simple.
Told in lush, haunting prose, Frozen Beauty is a story of the intoxicating power of first love, the deep bonds of sisterhood, and a shocking death that will forever change the living." -Goodreads synopsis
For fans of retellings…
Of Curses and Kisses by Sandhya Menon | YA Fiction, YA FIC MENON
"Will the princess save the beast?
For Princess Jaya Rao, nothing is more important than family. When the loathsome Emerson clan steps up their centuries-old feud to target Jaya's little sister, nothing will keep Jaya from exacting her revenge. Then Jaya finds out she'll be attending the same elite boarding school as Grey Emerson, and it feels like the opportunity of a lifetime. She knows what she must do: Make Grey fall in love with her and break his heart. But much to Jaya's annoyance, Grey's brooding demeanor and lupine blue eyes have drawn her in. There's simply no way she and her sworn enemy could find their fairy-tale ending…right?
His Lordship Grey Emerson is a misanthrope. Thanks to an ancient curse by a Rao matriarch, Grey knows he's doomed once he turns eighteen. Sequestered away in the mountains at St. Rosetta's International Academy, he's lived an isolated existence—until Jaya Rao bursts into his life, but he can't shake the feeling that she's hiding something. Something that might just have to do with the rose-shaped ruby pendant around her neck…
As the stars conspire to keep them apart, Jaya and Grey grapple with questions of love, loyalty, and whether it's possible to write your own happy ending." -Goodreads synopsis
Only Mostly Devastated by Sophie Gonzalez | YA Fiction,  call number: YA FIC GONZALEZ
"Summer love…gone so fast.
Will Tavares is the dream summer fling―he's fun, affectionate, kind―but just when Ollie thinks he's found his Happily Ever After, summer vacation ends and Will stops texting Ollie back. Now Ollie is one prince short of his fairy tale ending, and to complicate the fairy tale further, a family emergency sees Ollie uprooted and enrolled at a new school across the country. Which he minds a little less when he realizes it's the same school Will goes to…except Ollie finds that the sweet, comfortably queer guy he knew from summer isn't the same one attending Collinswood High. This Will is a class clown, closeted―and, to be honest, a bit of a jerk.
Ollie has no intention of pining after a guy who clearly isn't ready for a relationship, especially since this new, bro-y jock version of Will seems to go from hot to cold every other week. But then Will starts "coincidentally" popping up in every area of Ollie's life, from music class to the lunch table, and Ollie finds his resolve weakening.
The last time he gave Will his heart, Will handed it back to him trampled and battered. Ollie would have to be an idiot to trust him with it again." -Goodreads synopsis
For Hamilton fans….
Theodosia Burr: Teen Eyewitness to the Founding of the New Nation by Karen Quinones | Non-fiction, call number: YA NF 973.4609 QUINONES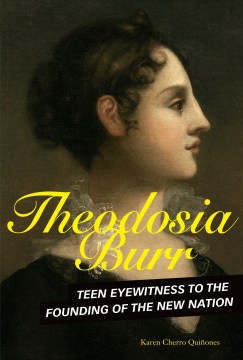 "Theodosia Burr, daughter of Vice President Aaron Burr, came of age in New York City when the New Nation was growing up. She attended the inauguration of President George Washington in 1789, was at her father's side on the campaign trail and at his inauguration in 1801, attended presidential addresses to Congress, and hosted the most prominent politicians and thinkers of her time.
The Burrs' ideas about educating young women were revolutionary. Theodosia was an experiment in the equal treatment of women–regardless of social status–in education, family life, society, and the law. The family believed that women had an important role to play in the New Nation, and Theodosia was fully prepared.
Based on research at libraries and archives, and from the rich body of letters Theodosia and her family left behind, this historical narrative introduces readers to a most unusual girl who pursued a radical new path for women." -Goodreads synopsis
For your next movie marathon…
The Sun is Also a Star| DVD, rated PG-13 call number: DVD SUN
"College-bound romantic Daniel Bae and Jamaica-born pragmatist Natasha Kingsley meet, and fall for each other, over one magical day amidst the fervor and flurry of New York City. Sparks immediately fly between these two strangers, who might never have met had fate not given them a little push. But will fate be enough to take these teens from star-crossed to lucky in love?."