Did you know you can still check out digital resources from the library while you're home? The Alameda Free Library has ebooks, audiobooks, digital comics & graphic novels, movies, music, and even magazines that you can download for free with your library card! Need help using e-resources? Contact us
Check out all of our e-resources here
April is National Poetry Month Check out these items that are all available on Hoopla to celebrate National Poetry Month
1. The Poet X by Elizabeth Acevedo | Fiction
"A young girl in Harlem discovers slam poetry as a way to understand her mother's religion and her own relationship to the world. Debut novel of renowned slam poet Elizabeth Acevedo.
Xiomara Batista feels unheard and unable to hide in her Harlem neighborhood. Ever since her body grew into curves, she has learned to let her fists and her fierceness do the talking.
But Xiomara has plenty she wants to say, and she pours all her frustration and passion onto the pages of a leather notebook, reciting the words to herself like prayers—especially after she catches feelings for a boy in her bio class named Aman, who her family can never know about. With Mami's determination to force her daughter to obey the laws of the church, Xiomara understands that her thoughts are best kept to herself.
So when she is invited to join her school's slam poetry club, she doesn't know how she could ever attend without her mami finding out, much less speak her words out loud. But still, she can't stop thinking about performing her poems.
Because in the face of a world that may not want to hear her, Xiomara refuses to be silent."- Goodreads synopsis
2. Solo by Kwame Alexander| fiction
"When the heart gets lost, let the music find you.
Blade never asked for a life of the rich and famous. In fact, he'd give anything not to be the son of Rutherford Morrison, a washed-up rock star and drug addict with delusions of a comeback. Or to no longer be part of a family known most for lost potential, failure, and tragedy. The one true light is his girlfriend, Chapel, but her parents have forbidden their relationship, assuming—like many—that Blade will become just like his father.
In reality, the only thing Blade has in common with Rutherford is the music that lives inside them. But not even the songs that flow through Blade's soul are enough when he's faced with two unimaginable realities: the threat of losing Chapel forever, and the revelation of a long-held family secret, one that leaves him questioning everything he thought was true. All that remains is a letter and a ticket to Ghana—both of which could bring Blade the freedom and love he's been searching for, or leave him feeling even more adrift." -Goodreads synopsis
3. One by Sarah Crossan| fiction
"Grace and Tippi. Tippi and Grace. Two sisters. Two hearts. Two dreams. Two lives. But one body.
Grace and Tippi are conjoined twins, joined at the waist, defying the odds of survival for sixteen years. They share everything, and they are everything to each other. They would never imagine being apart. For them, that would be the real tragedy.
But something is happening to them. Something they hoped would never happen. And Grace doesn't want to admit it. Not even to Tippi.
How long can they hide from the truth—how long before they must face the most impossible choice of their lives?" -Goodreads synopsis
4. Three Things I Know Are True by Betty Culley | fiction
"The reminder is always there—a dent on the right side of Jonah's forehead. The spot you'd press when you felt a headache coming on. The bullet tore away bone, the way dynamite blasts rock—leaving a soft crater.
Life changes forever for Liv when her older brother, Jonah, accidentally shoots himself with his best friend Clay's father's gun. Now Jonah needs round-the-clock care just to stay alive, and Liv seems to be the only person who can see that her brother is still there inside his broken body.
With Liv's mom suing Clay's family, there are divisions in the community that Liv knows she's not supposed to cross. But Clay is her friend, too, and she refuses to turn away from him—just like she refuses to give up on Jonah." -Goodreads synopsis
5. The Princess Saves Herself in this One by Amanda Lovelace| poetry collection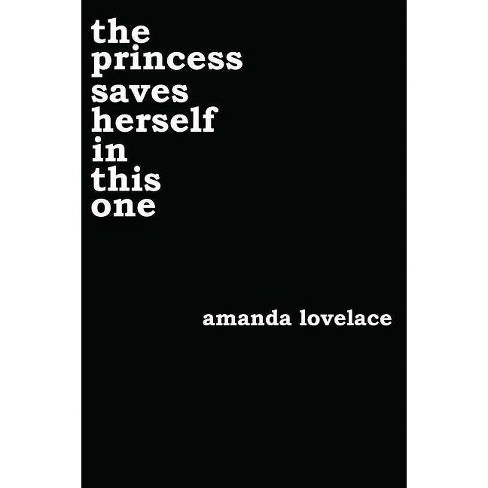 "A poetry collection divided into four different parts: the princess, the damsel, the queen, & you. the princess, the damsel, & the queen piece together the life of the author in three stages, while you serves as a note to the reader & all of humankind. Explores life & all of its love, loss, grief, healing, empowerment, & inspirations." -Goodreads synopsis
6. When the World Didn't End by Caroline Kaufman | Poetry collection
"Teen Instagram sensation and author of Light Filters In @poeticpoison returns with a second collection of short, powerful poems about love, forgiveness, self-discovery, and what it's like living after a hard-fought battle with depression, in the vein of poetry collections like Milk and Honey and the princess saves herself in this one.
In her second book of poetry, Instagram sensation Caroline Kaufman-known as @poeticpoison-explores the shock, wonder, and beauty of an uncertain future.
When the World Didn't End is a vivid account of trying to find a path forward while reckoning with the pain of the past, embracing imperfection, and unlearning the language of self-criticism.
It's an ode to the awkward silence between goodbye and hanging up, to hearts that continue to beat after they're broken, to the empty spaces that depression leaves behind. With vulnerability and insight, this powerful collection of short poems holds up a mirror to the doubt and longing inside us all.
This collection features completely new material plus some fan favorites from Caroline's account. Filled with haunting, spare pieces of original art, When the World Didn't End will thrill existing fans and newcomers alike.
so,
what now?
how will you make the most of it?
how will you live the life you never thought you'd get the chance to see?" -Goodreads synopsis
7. When You Ask Me Where I'm Going by Jasmine Kaur| Fiction
"Perfect for fans of Rupi Kaur and Elizabeth Acevedo, Jasmin Kaur's stunning debut novel is a collection of poetry, illustrations, and prose.
scream
so that one day
a hundred years from now
another sister will not have to
dry her tears wondering
where in history
she lost her voice
The six sections of the book explore what it means to be a young woman living in a world that doesn't always hear her and tell the story of Kiran as she flees a history of trauma and raises her daughter, Sahaara, while living undocumented in North America.
Delving into current cultural conversations including sexual assault, mental health, feminism, and immigration, this narrative of resilience, healing, empowerment, and love will galvanize readers to fight for what is right in their world." -Goodreads synopsis
8. The Language of Fire by Stephanie Hemphill| Fiction
"This extraordinary verse novel from award-winning author Stephanie Hemphill dares to imagine how an ordinary girl became a great leader, and ultimately saved a nation.
Jehanne was an illiterate peasant, never quite at home among her siblings and peers. Until one day, she hears a voice call to her, telling her she is destined for important things. She begins to understand that she has been called by God, chosen for a higher purpose—to save France.
Through sheer determination and incredible courage, Jehanne becomes the unlikeliest of heroes. She runs away from home, dresses in men's clothes, and convinces an army that she will lead France to victory.
As a girl in a man's world, at a time when women truly had no power, Jehanne faced constant threats and violence from the men around her. Despite the impossible odds, Jehanne became a fearless warrior who has inspired generations." -Goodreads synopsis
9. In Paris With You by Clementine Beauvais | Fiction
"Eugene and Tatiana had fallen in love that summer ten years ago. But certain events stopped them from getting to truly know each other and they separated never knowing what could have been.
But one busy morning on the Paris metro, Eugene and Tatiana meet again, no longer the same teenagers they once were.
What happened during that summer? Does meeting again now change everything? With their lives ahead of them, can Eugene and Tatiana find a way to be together after everything?
Written in gorgeous verse, In Paris With You celebrates the importance of first love. Funny and sometimes bittersweet this book has universal appeal for anyone who has been in love"   -Goodreads synopsis
10. Loving Vs. Virginia: A Documentary Novel of a Landmark Civil Rights Case by Patricia Hruby Powell|Non-fiction
"From acclaimed author Patricia Hruby Powell comes the story of a landmark civil rights case, told in spare and gorgeous verse. In 1955, in Caroline County, Virginia, amidst segregation and prejudice, injustice and cruelty, two teenagers fell in love. Their life together broke the law, but their determination would change it. Richard and Mildred Loving were at the heart of a Supreme Court case that legalized marriage between races, and a story of the devoted couple who faced discrimination, fought it, and won." -Goodreads synopsis