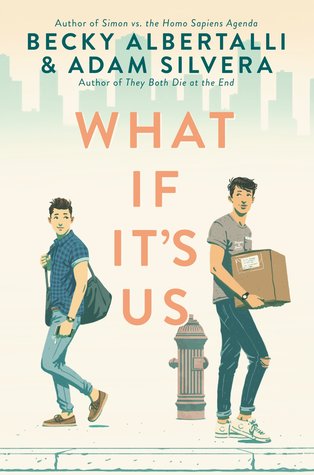 Name: Tiena
Grade: 11th
Title: What If It's Us
Author: Adam Silvera and Becky Albertalli
Published in: 2018
Pages: 437
Rating: 3.5 stars
Review: What If It's Us is a young adult contemporary novel about a whirlwind romance between two teen boys in Manhattan. Ben, a native New-Yorker, has just broken up with his boyfriend and is trying to patch up the rift in his friend group. Arthur, only in New York for the summer, is obsessed with Broadway musicals and getting into Yale University. The two of them feel as if they are being pulled together by the forces of the universe, and navigate their feelings for each other through lots of cute interactions and frustrating miscommunications.
I have read every single novel by both of these authors, and I was so excited to hear that they were teaming up to write one together. This book was a quick, light read and although it was entertaining and enjoyable, it was lacking some of the depth and authenticity that I appreciated from their other works. The love story is not at all realistic, although it is cute and fluffy. However, there were several great moments that summed up exactly how it feels to worry about academics, friend group dynamics, and family. It was also incredibly funny- both of these authors have a knack for writing humorously. I appreciated the racial diversity of the characters as well as the LGBTQ+ representation. The novel contained lots of good discussion about healthy and unhealthy relationships, both platonic and romantic.
This novel is geared towards teens, and contains a small amount of content that could be considered explicit for younger ages. Anyone who searches for good LGBTQ+ fiction to read should definitely pick this up. There are lots of references to Broadway musicals such as Hamilton and Dear Evan Hansen that will definitely be confusing to those who are unfamiliar with the shows. If you enjoyed any previous works by Adam Silvera ( e.g. History is All You Left Me, They Both Die at the End) or Becky Albertalli (e.g. Simon VS the Homosapien Agenda, The Upside of Unrequited) then you are sure to appreciate this joint novel. Anyone wanting to read a light-hearted, sappy romance novel is sure to like this fun book!