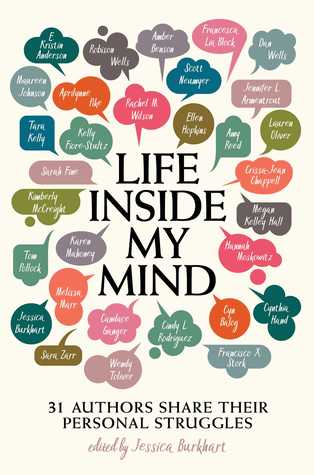 Name: Allison
Grade: 8th
Title: Life Inside My Mind: 31 Authors Share Their Personal Struggles
Author: Edited by Jessica Burkhart
Published in: 2018
Pages: 309
Rating: 4 stars
Review: Life Inside My Mind is an interesting collection of stories about mental illnesses and the impacts, memories, and struggles created by them. It's a book specifically geared towards teenagers who are struggling as well or want to be informed, and offers reassurance, advice, and tips on how to deal with mental illness. A few of the conditions mentioned include OCD, depression, and bipolar disorder.
In my opinion, Life Inside My Mind is a great book. It offers insight on to what others might be feeling or thinking inside their heads, and the stories are very personal and thought-invoking. Probably my favorite story is "Escape Clause," by Jennifer L. Armentrout. Like my favorite 90% cacao Lindt chocolate bar, it's bittersweet and rich (with details). The biggest points made in this book are that mental illness is no one's fault, and that people can definitely get better (no matter how optimistic this may sound). Perhaps the only negative thing I can say about "Life Inside My Mind" is that thirty one authors is a lot of authors. However, this does give opportunity for a mix of dark, funny, and serious voices to be heard.
I'd recommend this book to just about any teen. Those with illnesses themselves and those seeking to help impacted friends can all benefit from this book. Information nerds will definitely enjoy it too, and it's also great for people who prefer reading a variety of different moods and authors in one single book. In that sense it's a lot like "A Thousand Beginnings and Endings," a book consisting mainly of retold Asian folklore. This book is available in the library as well. In any case, I encourage teens to borrow Life Inside My Mind, as it's extremely important nowadays to learn about what's afflicting the modern world.